1º seminário Crafting Business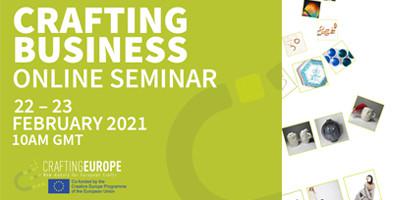 1º Seminário 'Crafting Business'.
Desenvolvido no âmbito do Projeto Crafting Europe o "Crafting Business" é um programa destinado a empreendedores do sector do artesanato que visa o desenvolvimento de competências de gestão.
Junte-se a nós nos dias 22 e 23 de fevereiro de 2021, das 10h às 12h50 (GMT) para saber mais sobre o programa Crafting Business e ouvir os testemunhos e as experiências dos empreendedores, formadores e consultores dos países envolvidos : Portugal, Espanha, Irlanda; Reino Unido, Holanda, Itália, Geórgia e Ucrânia.
O seminário será em língua inglesa
Inscrições em: https://us02web.zoom.us/webinar/register/WN_3ws111sIQQ-sbxse9oZEHw
AGENDA
Crafting Business Online Seminar
22nd – 23rd February 2021 10am GMT/11am CEST
Day 1.
Crafting Business 10.00am-12.50pm (Timings in GMT/Ireland/UK/Portugal)
10.00am – 10.10am: Introduction/greetings
10.10am – 10.30am: Forest + Found, Max Bainbridge and Abigail Booth, Hothouse Alumni
10.30am – 10.50am – Presentation of Crafting Business /Hothouse/ Caroline Jackman, Talent Development Manager for Crafts Council, UK
10.50am – 11.30am – Crafting Business Results
Ireland:
Gillian Barry, Limerick School of Art & Design, Programme Lead
Noel Donnellan, Participant
Spain:
Laura Miguel, EOI-Fundesarte, Programme Lead
Ana Illueca, Participant
Santiago Besteiro, Participant
11.30am – 11.50am – Break
11.50am – 12.30pm – Crafting Business Results
UK:
Gill Thewlis, Tutor
Pratima Kramer, Participant, Ceramicist
Ukraine:
Elizabeth Myroshnychenko, Handicraft Chamber of Ukraine, Programme Lead
Olena Kirianova, MIM Business School, Coordinator, Tutor
Oksana Mykolaychuk, Participant
12.30-12.50pm Q&A
Day 2.
Crafting Business 10.00am-12.50pm
10.00am – 10.10am: Introduction –/ –greetings
10.10am – 10.30am: The potentiality of creative businesses, Rasmus Wiinstedt
10.30am – 11.10am – Crafting Business Results
Italy:
Elisa Guidi, Artex, Programme Lead
Maria Elena Angeli, Tutor
Agnes Duerrschnabel, Participant
Georgia:
Maka Dvalishvili, Programme Lead
David Chechelashvili, Tutor
Matassi Sulakauri, Participant
Teona Gorgiashvili, Participant
11.10-11.30am – Break
11.30am – 12.15pm – Crafting Business Results
Netherlands:
Marion Poortvliet, Crafts Council Nederland, Programme Lead
Marion Beltman, Tutor
Fenna van der Klei, Participant
Veronica Pock, Participant
Portugal:
Ana Cristina Mendes, CEARTE, Programme Lead
Miguel Gonçalves, Tutor
Marta Barros, Participant
12.15pm-12.30pm – Q&A
12.30pm-12.50pm – Income streams for craft business, Laura Matthews
12.50 End